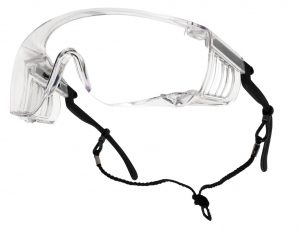 Check out the competition at the Armchair Biker blog to find out how to win a pair of these fantastic Bolle Squale Over Specs.
These over specs are great when you don't want to wear bulky goggles but still need some impact protection. Be that to give to visitors to your work place or to wear your self over an existing pair of prescription glasses.
They are certified to EN166 standard meaning they provide a good level of impact protection. This particular model also has anti-fogging and anti-scratch coating on the lens. The lens gives UVA/UVB protection to EN170 standard and the glasses will protect against high speed particles at extreme temperatures.
The glasses have side shields for upper and lower protection that also contain air vents allowing air circulation between these safety glasses and any prescription glasses being worn underneath. For extra comfort the side arms are adjustable and the safety glasses come with a neck cord so the glasses can't be kept close at hand when not in use.
The glasses are optical quality 1 which means they can be worn all day long without any adverse affects. Wearing these safety glasses over your existing prescription glasses should not hamper your eyesight in any way.