Our prescription safety glasses are ideal for anyone looking for protection for their eyes when they want to particpate in their favourite sports and need to wear prescription eyewear to do so. Adding that extra level of security that your usual eyewear wouldn't provide. Have a look at our range of prescription safety glasses.
In sports such as Squash and Badminton it's compulsory for junior players to wear eye protection whilst playing in competition. Prescription safety glasse are ideal for adults and juniors that already wear prescription eyewear and are looking for a stronger replacement pair to wear when they are playing.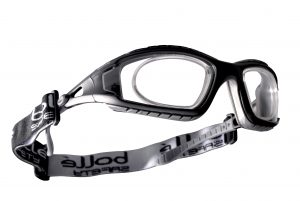 Even in traditional contact sports such as Football and Rugby trials are taking place for the use of safety glasses for junior players in non contact games. But again that doesn't stop the adults from acquiring something a little more fit for purpose than the usual every day pair of glasses.
Other raquet sports where we see prescription safety glasses in use include Racketball and Real Tennis.
Within Cycling and the different variations of mountain biking it can be very useful to have a comfortable pair of prescription safety glasses that fit well with a helmet and can be worn for long periods.
Target sports such as Shooting and Archery require your eye sight to be as keen as possible. For obvious reasons it's great that safety glasses have impact resistant properties to give your eyes a fighting chance if any accidents were to occur.
In Running and Orienteering you may be looking at a pair of prescription safety glasses with a tint in them to help in different light conditions or even photochromic lenses to change when the conditions change.
In motorsport such as Driving or Motorcycling safety glasses can help to reduce glare by having polarised lenses. This is also a great benefit in sports such as Sailing or other wintersports such as skiing and snow boarding where a goggle may be more appropriate.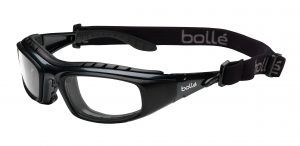 Some other considerations when choosing your safety eyewear include making sure the fit is right and the glasses or goggles are not too large for the face. Also some models have a clip on lens that fits behind the frame as opposed to being fitted into the frame. Your peripheral vision might be affected by this style.
All prescription safety glasses should conform to at least EN166 standard as a minium and ideally have anti scratch and anti fogging coatings on them. The polycarbonate lenses are normally used as they are strong and provide excellent UV protection.