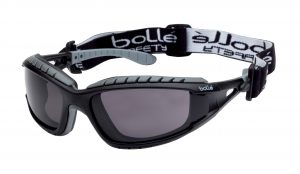 Whether you're looking to replace an old pair of safety glasses or trying them out for the first time.
You can get your hands on a free pair of Bolle Tracker II Safety glasses in a smoke lens.
These glasses are really versatile and provide great all round protection in a number of tasks.
With the headstrap attached they become a goggle and can withstand impacts upto 120 metres per second. As well as being able to work at extreme temperatures you'll also get incredibly comfortable interchangeable foam pads. The lenses are treated with anti-scratch and anti-fogging coatings. These safety glasses conform to the EN 166 34 BT standard when used with a head strap. The lenses correspond to the EN172 5.25 1BT standard for full solar UV protection.
They are very popular in many industries including pharamaceutical, construction, mining, offshore, oil & gas, energy and food.
Have a little look at the article and competition from SOS Magazine for more information on how to win these great safety glasses.