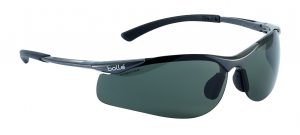 Q: Hi I've been pleased with the safety glasses from you that I got last year so want to know if you can help with some sunglasses with prescription lenses? We are going on a photography trip soon and will need lenses that protect from all UVA and UVB rays, polarised and possibly photochromic. Is this anything that you could supply?
A: Firstly thanks for the feedback. It's great to know that the safety glasses worked well. In a nutshell yes we can help you with this. But there are a few options here to consider.
Option 1: Have a look at our prescription safety glasses products to see which one would be suitable for you personally. Each model has a set of it's own sizes and prescription restrictions for the lenses. All of the prescription glasses can come in a either a grey or brown tinted lens of varying strength depending on your needs. These lenses will give you 99% protection against UVA/UVB rays.
Option 2: Again you can have prescription safety glasses that give the right protection but you won't be able to have them with both a polarised lens and a photochromic lens. You must choose one or the other instead of having the tinted lenses. Polarised lenses are great for reducing glare near water or snow for example. Photochromic lenses are great where you are moving from indoor to outdoor conditions on a regular basis as they automatically change the tint to match the amount of light coming through the lens. Have a look at all our prescription safety glasses options.
Option 3: For a less expensive option you may be better off going for a regular pair of polarised safety glasses such as the Bolle Contour or Bolle Voodoo safety glasses. Again these will protect against UVA and UVB rays and the polarised lenses would have a slight tint to them as well as reducing glare while you're on your photography trip.