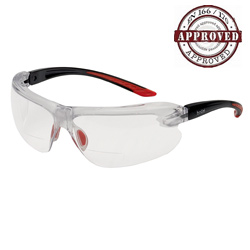 Customers are now looking for quality safety glasses that offer the same high level of protection and have a reading lens area.
It's a nice alternative to getting the full prescription safety glasses if you don't need to go down that route.
Instead get a pair of Bolle IRI-S safety glasses that come in reading lens types +1.5, +2, +2.5 and +3 dioptic corrective lenses.
The glasses themselves have anti-fogging and anti-scratch coatings on them and of course come as BS EN 166 as standard.
The sleek wrap-around design is complemented by memory form nose pads for extra comfort and they are also supplied with an adjustable neck cord.
They do of course come in the usual clear and smoke tinted models as well as a twilight lens model without the reading area. The twilight lens model is great for outdoor use in low light/overcast conditions.
But if you still think you need the full prescription safety glasses then have a look at our range of Bolle Prescription Safety Glasses.