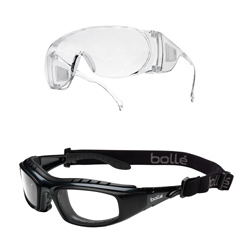 This all depends on what kind of environment the safety glasses will be used in.
Over Specs and prescription safety glasses have some similar features.
Such as they are certified to EN166 standard meaning they provide a good level of impact protection. They often have anti-fogging and anti-scratch coatings on the lens. The lens gives UVA/UVB protection typically to EN170 standard and some of the safety glasses will protect against high speed particles at extreme temperatures.
They are also optical quality 1 which means they can be worn all day long without any adverse affects. Either wearing Over Specs over your existing prescription glasses or Prescription safety glasses in place of your regular prescription glasses should not hamper your eyesight in any way.
Now to the differences.
The most obvious is how they are worn either over existing specs or replacing existing prescription glasses. Some may find having to put another pair of glasses over their existing glasses uncomfortable. If the safety glasses are going to be worn for long periods of time replacing existing eyewear the wearer may consider prescription safety glasses as a better option.
Another difference is the application of the safety glasses. Prescription safety glasses can only be worn by the person that they were made for. However, if safety glasses were required for different users with different eyesight requirements it may be impractical to give them all prescription safety glasses. The over specs can be used really well for any group of people that are required to wear safety glasses even if they do not wear existing prescription glasses.
The above difference is also imporatnt when considering the cost of the equipment. As prescription safety glasses are custom made the cost is far larger than over specs. Making over safety glasses  potentially a better option when a large number of eye protection is required.
They must also do the job they were intended for and protect the eyes in the environment they will be used in. Over specs and prescription safety glasses are not full goggles and don't have the level of protection sometimes required in certain industrial workplaces. Over specs tend to give the level of protection of safety glasses. Prescription safety glasses have hybrid options available. This means that a headstrap can be worn with the prescription safety glasses in the style of a goggle. The prescription safety glasses would then have added protection that safety glasses and Over specs wouldn't normally provide.