Q: Do you sell goggles that I can easily clean off if they get paint or glue stuck to the lens?
The customer happened to work painting Electrical Pylons. The goggles that they were using would get covered in paint whilst they were working meaning the customer would have to keep buying further pairs of goggles as their vision was being increasingly impaired. Their goggles looked like this: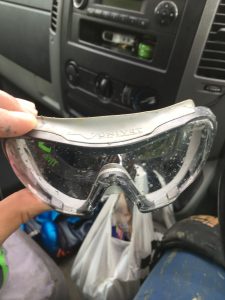 A: Our solution was to offer them the Bolle Atom Goggles. With these, you can also purchase a pack of 5 film Bolle Atom protectors. These are easy to fit onto the goggles. Once they have been covered in paint or glue the first protective film layer can be quickly and easily removed revealing the next protective layer.
Increasing the life of the lens of the goggle and saving the customer a little time and money in replacement goggles!