By volume the most popular lens chosen is clear by far. That said, it is not necessarily the best if you only intend to have one pair. The UK's weather changes so frequently you ideally want a couple of pairs to adapt easily but most will try and get away with a single pair. If you're unsure of the different types then see the Lens Type Section. By volume this is what we sell:

Clear: 50% / Smoke: 25% / Yellow: 15% / Others: 10%
Best Single Pair For Summer: Contrast Lens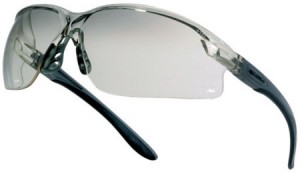 If you intend to only buy one pair and intend to use them during summer then we'd recommend the Contrast lens. This example is the Bolle Axis but all the contrast lenses do the same thing.
They are dark at the top and clear at the bottom allowing clear vision when indoors or undercover since you rarely need to look up, and then a darker shade when outdoors.
Best Single Pair For Winter: Yellow Lens
Yes ok we do get some sunny winter days but they seem to be few and far between. As a result you'll probably benefit from the Yellow lens which enhances the light to give great definition. This is of course if you can spare the embarrassment of looking like Bono or Ali G!
Even with light enhancing properties they do still offer 100% UV protection but when the sun does come out you may prefer to remove them rather than be overpowered.
Best Two Pairs: ESP and Flash
If you want to get two pairs for different conditions then we would say the ESP would be a good choice because it works like a clear lens but also gives protection from damaging blue light on clear days and reflective water. You can use these on dim and overcast days or indoors.
The Flash lens is then basically like the smoke but with the added advantage of protection from InfraRed. This is the heat generated by sun or hot artificial lights. Wear these on bright days or when working with heat lamps or around kilns. Example of the Flash lens are: